Proofo - Social Proof platform
By Adding One Line of Code and Real-Time Social Proof To Any Site
Try now
Key benefits
Increase engagement and conversions with psychological triggers.
Create Moments That Matter
Increase sales and sign ups by up to 15% with Social Proof and FOMO powered by real-time data
Get Started
Why Proofo?
Have you ever been even more excited to try a new restaurant because you see it's busy and popular?
Well, same goes for your website.
Social Proof
Purchase Notice (who have made purchased recently)

Sign up Notice (who have registered account on your store)

Stock Left Notice (How many items left in stock)

Real-time Notice (live visitor count for every page)

Information Notice (announce news, updates, promotions, etc.)

Review Notice (feature reviews from Google Place. Facebook, Yopto, Look, etc.)
Photo Reviews
Reviews of previous buyers are the most powerful and valuable proof for those who have the intent to buy your products. Hence, the review section on every product page significantly affects your conversion rate.
Photo Reviews (or Product Reviews) is a large feature included in Proofo. Photo Review function helps admin to collect stunning reviews easily and manage the review section effectively.
Customizable design and layout
Beautify your store site with lively notice popups as you wish easily.
Ready-to-use layouts with various styles

Up to 27 stunning seasonal themes

Support multiple variables

Customizable elements: Color, Font Type, Border, Animation Effects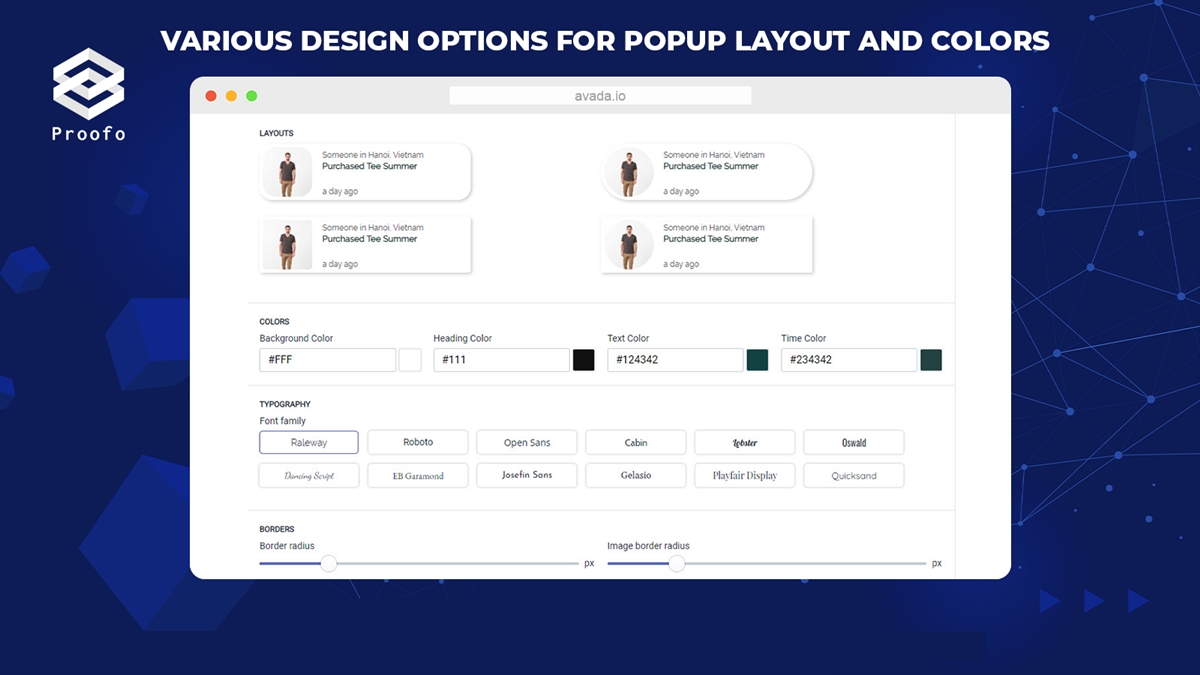 Support platforms
Flexible and transparent pricing
Whatever your status, our offers evolve according to your needs.
All Droplet features plus:
FAQs
Pageview is the total number of pages viewed and repeated views of a single page are also counted.
Impression is the total number of times your popups/notifications have been displayed to visitors.
Notification is the number of popup/message notices that are displayed to visitors. Notifications number = Impressions number.
For example, a visitor accesses your homepage first then he browses to the catalog page. You put a Proofo notification on homepage and no notification on catalog page. So in this case, two pageviews and one impression/notification are generated.
Yes, you can have 14-free trial. During your free trial period, you'll get the full experience of your chosen plan
No. There are no setup fees or any other hidden costs.
No, Proofo billing is monthly payment. You can cancel the subscription anytime so the next month you will not be charged anymore.
If you are not happy with Proofo, you can refund for the maximum latest 30 days. No question asked. For instance, you subscribed to Proofo Lake Plan and have been using it for 2.5 months. Now you want to cancel the subscription and refund the app. You can get 15 days payment back.
From the day you start to subscribe to a plan.
No problem. You can cancel your subscription or move between plans at any time.
Don't worry. If your store excess the number of pageviews in your plan, we'll send you an email and give you the option to upgrade your plan.
For Shopify store, payment will be processed by Shopify billing (You will receive Shopify invoice)
For other platforms, payment will be processed via 2Checkout and/or Stripe.